Few Irish footballers have attempted to conquer German football. None have succeeded. Noel Campbell is arguably Ireland's most successful fußball export, while Patrick Kohlmann's success in Germany's lower tier has been aided by his German birth.
Most Irish exports to the continent have gravitated toward France, Spain, and the Netherlands, but two players who did try their luck in Germany were an obscure League of Ireland striker nearing the end of his career and an Irish international defender trying to break out of the domestic league. Both spent a season in Germany before coming home.
1978 : Philadelphia Fury (U.S.A.)
1980 - 81 :
VfB Lübeck
(Germany)
If some players are simply made for domestic Irish soccer, then Eddie Byrne is one of them. A decent striker with some talent, this Dubliner played for 6 teams in Ireland before hanging up his boots in 1986 at the age of 35.
He began his career with Shamrock Rovers where
he met and played with a young defender named Eamonn Gregg. In 1976 Byrne joined up with Bohemians for a second time, and also for a second time linked up with Gregg. Together the pair won 2 major domestic trophies, and were integral to a talented Bohemians side that dominated Irish soccer in the late 1970s. Byrne was unfortunate to never earn a cap for the Republic of Ireland, and in 1978 he jumped at the chance to move to America and try his hand in the NASL.
He signed for the Philadelphia Fury franchise, and was teamed up with Irish legend
Johnny Giles
at the club. In fact Philadelphia hosted a noticeable Irish contingent that season. Joining Byrne and Giles were

Irish international

John Dempsey,

Fran O'Brien,

and

Pierce O'Leary

who had come with Giles on loan from Shamrock Rovers.

The side's first manager was Englishman Richard Dinnis and the

team that year was a highly talented one. Included were English World Cup winner Alan Ball and Chelsea legend Peter Osgood.
Philadelphia were a brand new franchise in NASL, having been just set up earlier that year. They played home games at the colossal
Veteran's Stadium
in the city, and were preparing for their maiden season in the NASL in 1978.
The Fury were drawn in the NASL Eastern Division along with Noel Cantwell

's

New England Tea Men, the Tampa Bay Rowdies and the Fort Lauderdale Strikers. This meant that Byrne & co. would be playing against the likes of

Gerry Daly

,

Rodney Marsh, Mirandinha, George Best and Ian Callaghan.
In spite of their fine squad, the season was utterly disappointing for the Fury as they lost 18 matches, winning only 11. This left them bottom in the Eastern Division. Coach Dinnis resigned in mid season, and Alan Ball replaced him at the helm as player-manager.
The play-offs also ended disappointingly as they were knocked out in the first round by Trevor Francis' Detroit Express. Ball was named in the Team of the Season, but otherwise Fury won no other accolades. Byrne played solidly enough however. Deployed mainly in midfield, he notched up 18 games for the club and scored one goal. After the season ended, he joined Shamrock Rovers for one year, but was released in the summer of 1980.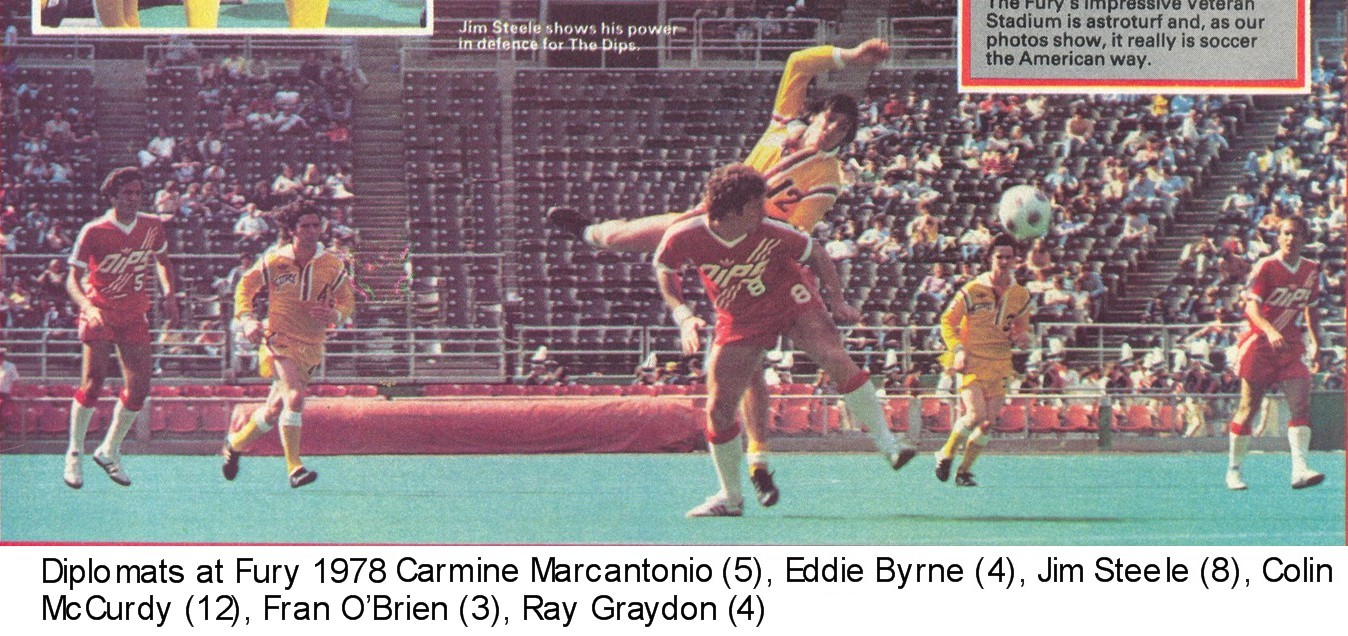 Eamonn Gregg
1980 - 81 :
VfB Lübeck
(Germany)
A defender, Gregg also began his career with Shamrock Rovers, where he and Byrne met. He joined Bohemians in 1972 and enjoyed
a hugely successful time at Dalymount Park where he picked up 2 League medals, 2 League Cups, 2 Leinster Senior Cups, and an FAI Cup. While with
Bohs
he also won all 8 of his international caps, beginning with an outing against Poland in 1976.
Heavily linked with a move to Tottenham Hotspur in England, Gregg instead moved to Germany in 1980 to sign with Oberliga Nord side
Lübeck
. In Germany, he linked up for a third time with Eddie Byrne.
Reformed in 1945 out of the ashes of a predecessor club, VfB participated in post-War regional leagues with moderate success. In 1963 the Bundesliga was reformed, but
Lübeck
were forced to play in the second-tier Regionalliga Nord. After just missing out on promotion to the Bundesliga in 1969, they eventually found themselves in the Oberliga Nord (the Northern segment of Germany's third tier) by 1980. The club has no major honours to date.
In spite of their modest size and status, the club's home stadium is the rather large, 17000 capacity
Stadion an der Lohmühle
which they have used since 1924. Although Gregg played during the League of Ireland's heyday in the 1970s, his new home ground would still be one of the biggest he'd play in. Having played in the mega stadiums of American sports, the grounds in this league would seem tiny to Byrne's eyes.
Both Byrne and Gregg were signed by coac

h

Jürgen Brinckmann
who had been appointed in July after the club had gone through a host of managers in under two years. While Byrne was merely a League of Ireland regular, Gregg was an Irish international, and was the club's most high profile signing in a long time.
Sadly however, their time in Germany was nothing remotely resembling a success. Brinckmann was sacked in February after
winning only 4
of his 21 games in charge. He was replaced by Rolf Oberbeck who failed to invigorate much form into the team. VfB
finished in 12th
, just one place above relegation to the abyss of German amateur soccer. Neither player had made much of an impact, and both left the country after one season.
Byrne's career petered out with Shelbourne, Athlone, and Longford before he hung up his boots at the end of the 1985-86 season. Meanwhile Gregg stayed in the game much longer. He moved to Dundalk where he would win his third League of Ireland title in 1982. After stints with St. Pats and Kilkenny, he retired from playing in 1990. He moved into coaching, where he took Bohemians to the FAI Cup in 1992, before leaving football for good in 1994.
Of all the European leagues where Irishmen try to succeed, our record in Germany is the worst. If this league is the league of the future, then we might want to see more Irish players give it a go in the Bundesliga. Currently youth international Selcuk Tidim is knocking about with Hansa Rostock. Here's hoping he might succeed, both at club and country level, where others have failed.